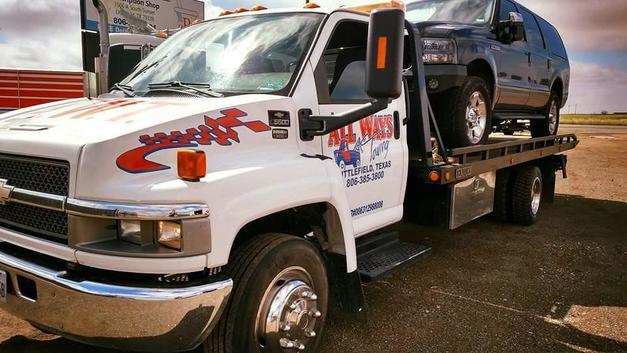 All Ways Towing INC, can be found by searching Plainview Towing Services. Whether you want light duty towing, medium duty towing or heavy duty towing, we can meet all of your requirements. If you need to get a big job done, we have the right equipment and the most skilled and experienced people for it. We have a team of operators who work together to ensure that you receive your belongings, small or heavy, completely damage free and with minimum hassle to you.

​Other than that if you are ever stuck in some emergency and need help, just call us up. If you are stuck in a ditch we can safely pull your vehicle back on the road without causing any further to you or your car. We also provide flatbed towing services. Whether it is your everyday car or a prized possession like a vintage car, you can count on us to tow it safely and efficiently.
Plainview Accident Assistance
We know that accidents are horrifying incidents that can completely throw off their balance. In such times, you need a towing company near you that will provide you the best service at a reasonable rate. This is where we come in. At Plainview Towing, we are here to help anyone who has been through any sort of accident and needs our expertise. We offer traffic management and site clean-up as well. There's a reason we are the number one choice of authorities who need our help with roadside disasters and accidents.
Plainnview TX Roadside Assistance
Accidents on the roadside are completely unexpected and can often happen at the worst times when you desperately need to get somewhere on time. If you're driving down the road, and suddenly some peculiar things begin to happen in your car – stop before risking your safety as well as the safety of others around and give us a ring.

What starts as a wobbly movement, is followed by a heave and sigh, and eventually ends in a dead stop. A few tries on the ignition fail to inject life back to the car, and you realize that you need to call for outside assistance. The battery is probably dead, may be the onboard electronics have failed. Your car may have been involved in an accident that immobilized it totally.

Whether your car has broken down or the tire has blown or the brakes have failed, no matter what the problem, you can rely on Towing Plainview TX to get you up and running again. Just call us up and tell us what the problem is. We will show soon after with the right equipment and fix it up so you can be on your way. If the problem is too big to be fixed we will have the two truck nearby for auto towing your car. No matter what time it is, do not hesitate to calls for help. We will meet on any side street or major highway in as short time as possible. We have teams dispatched to various locations so whoever is nearest is can reach immediately soon after you call our operators and report your problem. We have a growing fleet of trucks and cover a vast area so we are always near you. No matter how big or small your problem is, we're here for you.
Vehicle Storage Plainview
If you need a safe and secure place to store your car for a few days or for longer, you can call Plainview Heavy Duty Towing for our vehicle storage services. We offer indoor and outdoor storage units so you decide what you want. We have 24 hours surveillance so our units are completely safe and the perfect place for you to store your vehicle in. We keep your vehicle in perfect condition so you can leave your prized antique car with us without any worry that it will get damaged in anyway or stolen. In fact, our indoor units are climate controlled so your car doesn't get overheated by chance during summers.
Junk and abandoned car removal
What to do with abandoned cars and permanently grounded vehicles in your garage? You do not know where to take the junk. We at Plainview TX Wrecker Service have the solution with our towing services and we have access to a number of junk yards and wrecking services.
Fleet towing of multiple vehicles
Our carriers are equipped with flatbeds and tiers to enable conveyance of multiple vehicles. If you are moving several vehicles, especially over long distance, then this is an economical and practical solution for your towing needs, because all vehicles are moved in one transaction. We use straps and rubber pads to protect the bodywork from scratches and dents, or even knocking against each other.
For long distance towing we have special competitive rates. Furthermore, unlike most carriers, our rates for winter and summer transport do not change. Also, we never compromise on safety and guarantee you of a scratch & dent-free delivery.
Our flatbed trucks and rollbacks that low clearance vehicles are safely loaded onto and unloaded from the tow truck. The ramp can be lowered to a very acute angle, thus allowing a smooth roll-on of the vehicle on tow. We use special straps and rubber pads to prevent scratches and dents. Sports, classic and other exclusive vehicles are especially catered for in this category of towing services.​
If your vehicle has been impounded by the police department, you do not have anything to worry about. We always store the vehicle in a safe parking place and our workers ensure that you get your vehicle back in the condition that you left it. When you are ready to recover your vehicle, you can come visit us. However, it is absolutely necessary that you present the right documents for us to hand your car over to you. Without the right documents that show you as the owner of the car, you cannot claim your vehicle. We will need the following information from you for you to claim your vehicle.
Vehicle registration
Valid driving license or other photo identification card issued by the government
In our motorcycle towing division, we recover broken down bikes from the road. We have special loading facilities for motorcycles (and bicycles), that ensure safe and secure strapping with nylon straps and rubber cushions in order to prevent scratches, knocking about, and other forms of damage.
Heavy Duty Towing Plainview of heavy machinery and equipment
Apart from car towing, we can carry your off-road vehicles like tractors and other machinery. We have special rates for this service and we can take your items to any desired location. ​
Valuable cars need to be specially handled with great care. We specialize in conveyance of vintage, classic, and collectible cars for those discerning customers who need to transport their vehicles between motor shows and to auctions. Our crew ensure safe loading and securing of the vehicles to protect them from scratches and stress, by using rubber and nylon straps rather than chains. We can carry the vehicles in enclosed trucks to protect them from the elements, or open trucks depending on the customer's preference.
We have special tow trucks for unusual vehicles like caravans, boats, trailers, cabins, large trucks, transport trucks, dump trucks, racing cars and other forms of vehicle or vehicle appendages. We also have specifically trained crew for handling these types of services.